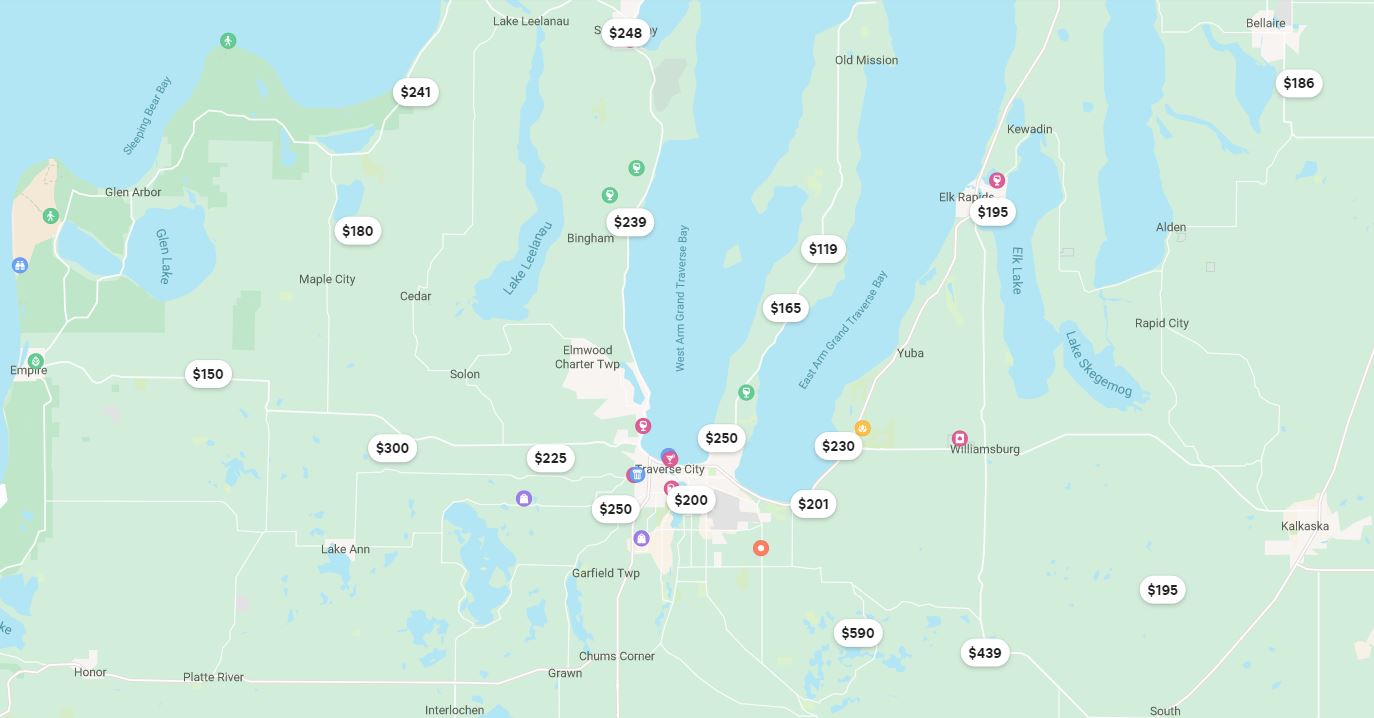 Nearly $500,000: This is the amount of money Airbnb hosts in the Traverse City area earned over Memorial Day weekend last year, with the average host earning $800 over the weekend. This is just one of many eye-opening statistics recently shared with The ticker. As Traverse City approaches another Memorial Day weekend — and with it, the start of another summer tourist season — we're crunching some numbers to find out just how big Airbnb is in Northern Michigan.
$24 million: Total amount of revenue earned through Airbnb by short-term rental hosts in Grand Traverse County last year. No other Michigan county generated more Airbnb host revenue in 2021, with Grand Traverse County not only outperforming major urban epicenters like Wayne County ($17 million), Oakland County ($14 million) and Kent County ($8 million), but also other popular ones. lakeside tourist draws like Berrien County ($23.5 million) and Allegan County ($18 million).
200%: Increased revenue for Airbnb hosts in Grand Traverse County since 2018. That year, Airbnb hosts in the county earned a total of $8 million and hosted approximately 53,200 guests. Three years later, revenue has tripled – although Airbnb did not disclose guest numbers for 2021.
$259 million: Total amount of net rental income by Airbnb hosts across the state of Michigan last year. The majority of this revenue (about $146 million) was generated in rural areas rather than cities or metropolitan areas. Thorn says there were nearly 6,000 active Airbnb hosts in rural Michigan counties in 2021.
$14,000: Average total income of a Michigan Airbnb host in 2021.
9.27%: Share of total Michigan Airbnb host revenue in 2021 from Grand Traverse County. For perspective, Grand Traverse County has just 0.915% of the state's population, according to 2020 census data.
$52,500,000: Total dollar value of Airbnb host revenue in 2021 in the five-county Grand Traverse region, which includes not only Grand Traverse County, but also Leelanau ($13 million), Antrim ($8 million), Benzie ($6 million) and Kalkaska ($1.5 million). Those numbers mean the five-county area accounted for more than 20% of Michigan's Airbnb hosts' total revenue last year.
$73,800,000: Collective Airbnb 2021 revenue from hosts in the 10-county region of Northwest Michigan, including revenue not only from the five-county region as shown above, but also from Charlevoix ($10 million), Emmet ( $7 million), Manistee ($3 million), Missaukee ($300,000) and Wexford ($1 million). The 10-county region accounted for 28.5% of Airbnb revenue earned in Michigan in 2021, and more than half of revenue generated in rural areas of the state.
1,300+: Number of cities in the United States that have had their first-ever Airbnb bookings since the start of the pandemic. Haven Thorn, Airbnb's communications manager for North America, says the number proves the pandemic has driven Airbnb tremendous growth in rural markets. In Michigan alone, he notes, 30 locations have landed their first Airbnb bookings since March 2020, most of them very small towns. And nationally, Airbnb data shows guests booked 110% more nights in rural rentals in 2021 compared to 2019.
"Hosts in rural counties across the United States collectively earned more than $3.5 billion on the year in 2021," says Thorn. "And beyond that, looking back at this year, Airbnb guests have already planned stays in over 72,000 cities and towns this coming summer. Tourism extends beyond your big, cosmopolitan, well-known cities. We we see a tendency for people to spread out and discover anything new and local within a 120 mile radius of where they live.
$38 million: Net rental income of Airbnb hosts in Michigan in the first three months of 2022. The average host in Michigan earned $3,000 in January, February, and March, an average of $1,000 per month. Nationally, Thorn says gross nights booked on Airbnb in the first quarter of this year exceeded bookings in the first quarter of 2019 by 32%.
$16 million: Dollar value of tourism taxes Airbnb collected and remitted to Michigan in 2021. Historically, Airbnb and other vacation rental platforms have not always required guests to pay tourism taxes that hotel guests in many areas are required to pay – and which fund the operation of the convention and tourist offices such as Traverse City Tourism. However, Thorn suggests tourism taxes are becoming more commonplace on Airbnb, with $1.5 billion collected and remitted by the platform in the United States last year, an 87% increase from 2019. In Michigan, only two counties – Kent County and Genesee County – currently have lodging and/or hotel-motel taxes that apply to Airbnb.
The regulating factor
Asked about Airbnb's stance on local control of short-term rentals — and the bill Michigan lawmakers are considering to ban local governments from regulating short-term rentals when it comes to zoning — Thorn says The ticker the company "supports fair regulations for home sharing around the world".
"We work closely with local governments and legislators to pass fair laws that benefit everyone – not just guests and hosts, but also keeping neighbors in mind, whom we consider to be equal stakeholders. who are part of the Airbnb community. Over the past five years, Airbnb has partnered with cities around the world, focused on empowering everyday people to continue earning extra income by sharing their homes, but also on supporting common sense regulations on short term rentals to ensure they do so responsibly.
In September 2020, Airbnb launched the "City Portal" platform, billed as "a one-of-a-kind solution for Airbnb's partner communities." Thorn says the tool is intended "for governments and tourism organizations only" and offers regulators an easy way to track local Airbnb activity, enforce local regulations, monitor tourism trends on the rental side of short term and communicate directly with Airbnb for Support. And while the initial "pilot partners" for City Portal were primarily large metropolitan areas, Thorn says adoption is growing to include smaller, more rural communities as well – creating openings for places like Traverse City to potentially soar. on board.
"We currently have over 160 City Portal partners, and we aim to have 250 by the end of the year," says Thorn.