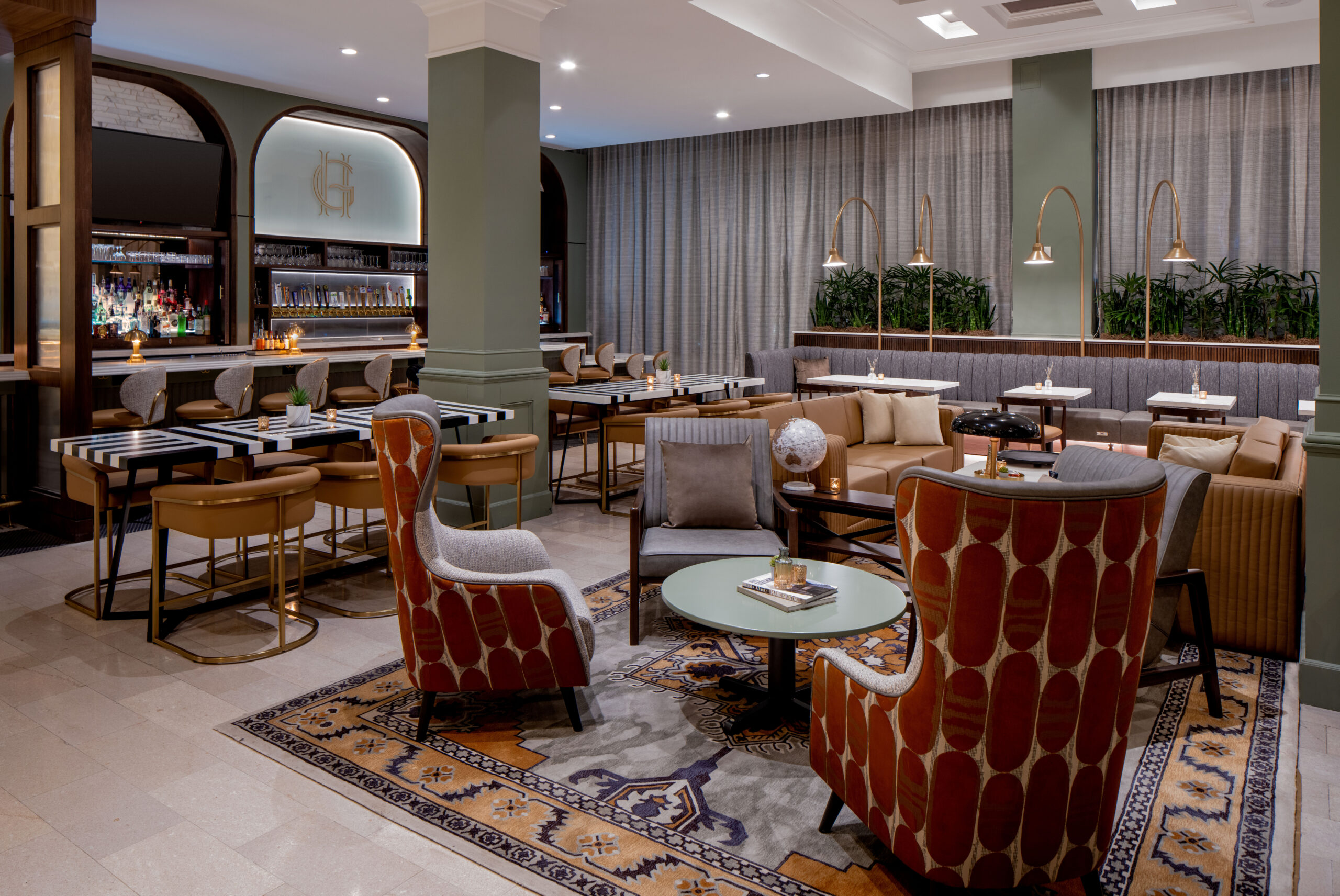 A downtown Richmond hotel has completed a series of renovations shortly after its cross-street rival completed its own upgrade.
The Hilton Richmond Downtown, which occupies the former Miller & Rhoads department store building at 501 E. Broad St., announced in late March that it had completed renovations that included a new bar concept and meeting space.
The hotel declined to specify the overall investment in the project, except to say it was a "multi-million dollar" renovation.
The new bar concept, Gather & Hem, replaced Thirst and Fifth at the hotel. The bar and lounge feature 20 beer taps, up from the previous concept's six taps.
"We're really targeting local craft beers with our taps," said hotel manager John Cario. "Travelers want to try something new, and with Richmond having plenty of premium craft beers, we wanted to take advantage of that too – no pun intended."
The lounge also offers a catering service. Appetizers are priced at $12-$19 and include things like charcuterie, barbecue sliders, nachos, and a seafood basket. Appetizers at Gather & Hem are $18-$38. The menu also offers sandwiches priced at $15 to $18.
"Gather & Hem is leaning more towards small plates, more local craft knowledge and creative cocktails," Cario said. The bar's signature cocktails cost between $14 and $18.
Gather & Hem can accommodate 80 people and was fully opened in November. The hotel is also home to La Grotta restaurant and 1885 Cafe and Market breakfast.
The renovation project also created a so-called 1,400 square foot "hybrid" meeting room called Ensemble, which includes a designated kitchen and a private breakout area.
"It's a great room for a law group coming in or maybe a longer-term meeting or event that wants its own room," Cario said. "A lot of large groups are looking for breakout rooms, upscale hospitality rooms."
The space was once a Liberty Mutual office, but more recently has been used by hotel staff as a meeting room, Cario said. The hotel has over 10,000 square feet of meeting space overall.
The project included renovations for the hotel's 250 rooms, with the work primarily focused on the guest bathrooms. Eighty percent of rooms have had their tubs replaced with showers, Cario said.
A 2015 renovation focused on bedroom sleeping areas, he said. The bedroom portion of the project was completed in June 2021.
The most recent upgrades also included renovations to the hotel's indoor pool and gym.
Building permits filed with the city put the cost of bar and meeting space renovations and bathroom upgrades at around $1.3 million combined.
Baskervill handled the interior design of the project. The general contractor was Land-Ron Inc., based in Florida.
The hotel is owned by Ohio-based Rockbridge. HRI Lodging manages the property.
Hilton's announcement comes months after Richmond Marriott, across the street at 500 E. Broad St., completed its own multimillion-dollar renovation that transformed its former sports bar into a high-end restaurant. range called Fall Line Kitchen & Bar.
In other downtown hotel news, Retro Hospitality has taken on management duties for Quirk Hotel's Richmond and Charlottesville locations, which were previously managed by Hyatt Hotels.