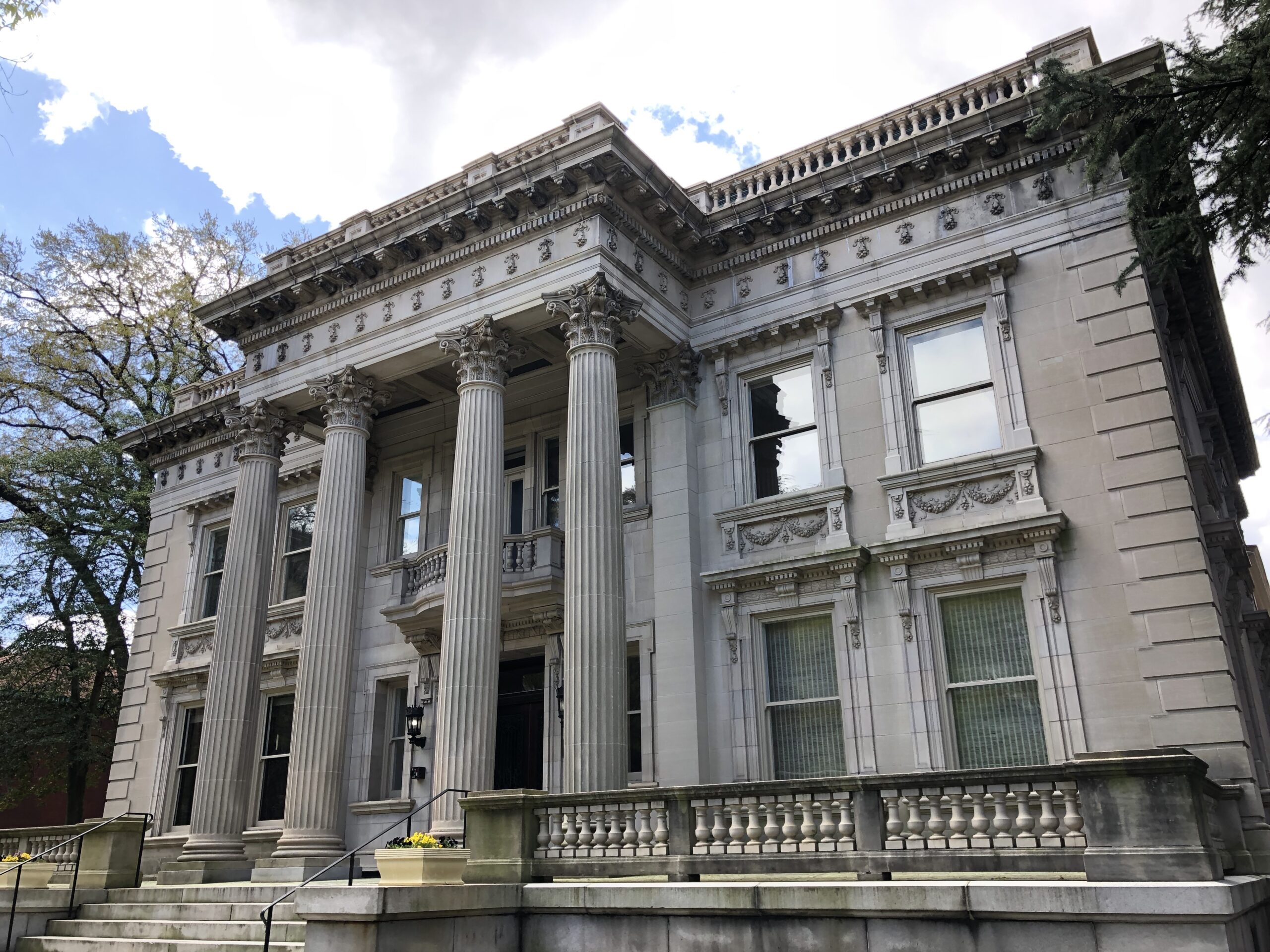 The Wall Street Journal's real estate section on March 18 featured a lavishly illustrated article that grew to a double-page spread. The article lamented the loss of New York's opulent Gilded Age buildings that could have served as sets for, well, "The Gilded Age," HBO's hit series about 1880s Gotham.
The structures fell victim to the ramped up construction of apartment buildings in the late 1920s. The article featured archival photos of the homes once jammed with traffic by Cornelius Vanderbilt II (a railroad and shipping), Caroline Astor (old money and real estate heiress), Charles Seamans (typewriter magnate), and Charles Schwab (steel magnate). The cable television series was filmed on location in Newport, RI and Troy, NY, and at a studio on Long Island.
Reading the article, my thoughts turned to the Old Second Baptist Church of Richmond, the 1906 architectural gem on West Franklin Street downtown. The thoroughfare was once our city's answer to Fifth Avenue. The shrine still shines with Golden Age glory despite an uncertain future. Its owner, who also owns the nearby Jefferson Hotel, plans to demolish the monument.
The producers of "The Gilded Age" could have made Richmond a stand-in for Manhattan given our treasure trove of period landmarks such as Main Street Station, Maymont, the Branch Museum of Architecture & Design (formerly Beulah and John Kerr Branch house ), and of course the Jefferson Hotel and nearby Baptist Church.
The Second Baptist Congregation occupied its Roman temple-like sanctuary from the building's completion in 1906 until 1967, when it moved to the crossroads of the western end of River Road and Gaskins Road. The old church was designed by Noland & Baskervill, Richmond's leading architectural firm of its time.
Company director William Noland was originally from County Hanover (like many prominent local architects over the decades) and received much of his training while traveling around Europe. He then apprenticed with one of the top law firms in Philadelphia. His business partner from 1897 to 1917 was Henry Baskervill, a Richmond resident with an engineering degree from Cornell. Both were talented, and Noland became Virginia's first licensed architect.
At the time they designed Second Baptist, the firm was also drawing up plans to restore and expand another Roman Revival structure, the Virginia State Capitol. Noland & Baskervill's Beth Ahabah, a beautiful synagogue a few blocks west of Franklin Street inspired by Rome's Pantheon, was erected in 1905.
As a satisfying future for Second Baptist is sought, it may be instructive, if not inspiring, to consider how Beth Ahabah and four other major Golden Age buildings designed by Noland & Baskervill have not only been preserved, but restored. and reinterpreted, after a century. useful. The buildings of this premier business are treasured here and their stewards have invested millions of dollars to protect and benefit from them.
Consider: At 1111 W. Franklin St., Beth Ahabah recently spent $7 million to refresh her spectacular domed sanctuary and add an architecturally aggressive contemporary facade to her adjacent Education Building. The Noland & Baskervill Synagogue is an old beauty but more than ready to blend in with its dashing and modern newcomer next door.
Nearby, at 1205 W. Franklin, parishioners of St. James's Episcopal Church have worshiped at their Noland & Baskervill compound since 1912. The shrine, with its soaring steeple, was inspired by a London church, the famous St. Martin-in-the-Fields in Trafalgar Square. In 1994, the Richmond Shrine was struck by lightning and badly burned. He could have been left for dead if the congregation had not gathered within hours of the fire and voted to restore the ruins.
The result of the three-year restoration and reconstruction has been a significant improvement to the parish campus. It was expensive, $12.4 million (in 2022 dollars). But the process was instructive for the whole community: why would the people of Richmond even consider demolishing a Franklin Street landmark like Noland & Baskervill's Second Baptist Church, which has aesthetic and inherent value? , as well as elegant potential for redevelopment and perhaps expansion?
Last year, Virginia Commonwealth University completed a full restoration of its Elizabeth and Frederic Scott House designed by Noland & Baskervill at 909 W. Franklin St. Built in 1911 and modeled after the structure of the Petit Trianon at Versailles, it served for many decades as a women's dormitory. Now restored, it provides offices and a visitor center for the campus. The restoration, which cost $7 million, is a testament to VCU's stewardship of buildings along its architecturally rich West Franklin Street corridor to enhance its collegiate brand. A note: In the recent past, when the VCU Brandt Hall high-rise dormitory was designed overlooking Monroe Park, then-university president Eugene Trani reportedly asked the architect to make it compatible with its Franklin Street neighbor , the Prestwould, a nearly century-old condominium tower. Clearly, maintaining and improving Franklin Street from the Golden Age is a core Richmond value.
There is more. Last year, the YWCA updated its 1913 Renaissance Revival masterpiece by $5 million firm Noland & Baskervill. The beautiful red-brick building is not directly on Franklin, but half a block south at 6 N. Fifth St. With its double granite staircase, solid lines and tasteful exterior details, it's like if someone had dropped a Florentine palace in the middle of the city. With its new makeover, inside it is freshly contemporary.
Across the street from the YWCA at 9 N. Fifth St., the Second Presbyterian Church recently completed a $3 million interior renovation of the historic church complex, including its 177-year-old Gothic Revival sanctuary. But half of the overall renovation budget was spent on updates to the church's 1905 education building which (you guessed it) is a building designed by Noland & Baskervill. The former Sunday School building of the former Virginia State Insurance Building is a bustling brick symphony and a wise exercise in architectural classicism. Like the YWCA, there are many well-designed contemporary features within the Virginia Building's sensitively restored and reconfigured interior.
Noland & Baskervill have produced buildings on and near Franklin Street that have been delivered for a century or more, and the structures are as valuable as they are flexible. Fortunately, William Noland traveled to Europe; he brought renditions of the best of Rome, Florence, Paris and London to Richmond. How cool is that?
We expect the preservation and adaptive reuse of Second Baptist so that it can join its architecturally rich neighbors. Those who have pledged to maintain Franklin Street (as almost all landowners have done), are not just "the coalition of the willing" (to use a phrase from President George Herbert Walker Bush), but the coalition of passionate , from an architectural point of view.