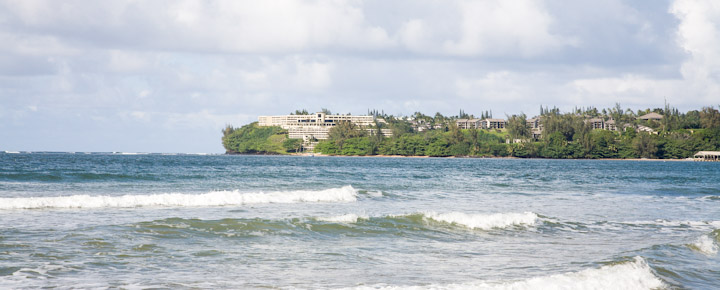 Getting back to the subject of extraordinarily high hotel prices in Hawaii, a new Kauai hotel is reopening, 1 Hotel Hanalei Bay. This is the latest Starwood hotel takeover of what we will always consider the Princeville Resort. In its last iteration, it was known as the St. Regis Princeville Resort. We recently saw a lot of promotion for the new hotel and looked into it a bit further. When it opens, we will also provide on-the-ground commentary.
The 1 Hotel Hanalei Bay will have 252 rooms including 51 suites. The website says "thoughtful touches will bring nature into every space, with native greenery, reclaimed materials, organic cotton linens, and views of lush gardens, soaring mountains, or glistening Hanalei Bay." .
Apart from its iconic view of Bali Hai.
The hotel has an iconic view of Bali Hai that takes your breath away when you first enter the lobby. That's wonderful.
The resort was purchased in 2018 by Starwood Capital Group and was intended to be one of its 1 Hotels and Resorts brands. It will finally be opening in the next few months and they are taking special "discounted" opening reservations from February 1st.
Fresh out of a $250 million renovation.
1 Hotel Hanalei Bay has had a facelift, for which it was closed for more than two years. The last time he saw a real overhaul was in 2009, when around $100 million was spent and the hotel was closed for about a year. This time the resort closed in May 2020, just as Covid shut down Kauai.
The resort has always been a special place for its Makana Terrace dining room with unparalleled views. The food has never been very good, frankly, and I hope that too will change with this latest iteration.
Mold has also plagued the property since it was built. Due to its location, the complex must remain largely air-conditioned 24/7 in order to prevent the return of mold, which is difficult to avoid or eliminate, and unpleasant to live in.
The best rates at 1 Hotel Hanalei range from $8,000 to $77,000 per week.
A variety of room categories are available with some geared towards, well, the most reasonable ones. A king room with a mountain view, for example, will cost you just $6,406, for a 7-night stay, which, with resort fees and taxes, comes to $8,011.
Heading up the extreme pricing, a large oceanfront loft suite, sleeping two, will cost $48,000 plus resort fees and taxes for the week, which comes to a total of just over $57,000. But it still goes up from there, if you will.
Keep in mind that the rates above are the cheapest we found on their website. These rates are "fully prepaid and non-refundable". There are slightly higher "pay later" rates that allow you to cancel up to 14 days before your arrival.
The only rooms with a veranda are marked as "terrace".
Sad has always been the case, only a small number of hotel rooms have verandas. Otherwise, you will enjoy the beautiful views only through the large windows in your room. If you want a veranda, be sure to check the room categories that have the word terrace in the title.
Gorgeous views but not much of a beach to speak of.
The hotel has a small, mostly rocky strip of beach that's also used by the nearby Hanalei Bay Resort. To enjoy the beach magic associated with the name of the new hotel, it takes about 15 minutes by car to reach the iconic Hanalei Bay, which is just across the Hanalei River but is otherwise inaccessible. Most visitors will opt for this choice.
The $250 million makeover.
The resort said: "Every corner of this irreplaceable property is being redesigned – the results will include 252 transformed rooms and suites; a 7,900 square foot wellness center; renovated pools, including the addition of a new adult pool with panoramic tropical views; and an 18,000 square foot spa and fitness center.
Retirement accommodation is also planned in conjunction with the hotel's wellness concept. This also includes sage burning, special lighting, and sleep tracking. Look for personalized nutrition and exercise programs as well as restorative wellness therapies.
Reservations are being taken now for arrival dates beginning in February. The resort was purchased in 2018 by Starwood Capital Group when it became part of its 1 Hotels and Resorts brand.
Are you considering staying at 1 Hotel Hanalei Bay and be what is your view on their opening prices?
Disclosure: We receive a small commission from purchases of some of the links on Beat of Hawaii. These links cost you nothing and provide you with the revenue necessary to provide you with our website. Mahalo! Privacy Policy and Disclosures.