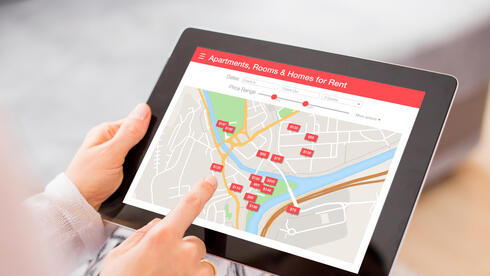 The global travel technology industry has seen incredible growth and is currently estimated at $8 trillion. The past few years have delivered quite a few challenges as Covid-19 has had a huge impact following global travel restrictions. However, despite the pandemic, traveltech companies raised $363 million in 2020.
In Israel, more than 300 companies are participating in the Travel Innovation Space and the industry is booming. Below are 10 companies operating in traveltech, divided into relevant subcategories:
Alternative accommodation
Product: The Guesty platform provides end-to-end property management software for short-term rentals.

Year of foundation: 2013

Funding: $114 million (according to Crunchbase)

Founders: Amiad Soto, Koby Soto
Since the start of the pandemic in 2020, the company has nearly doubled in size, growing to over 500 employees across 13 global offices.
Guesty's Open API technology enables third-party integrations with over 130 partners on Guesty Marketplace, covering everything from dynamic pricing tools and payment processing, to contactless check-in technology, digital concierge services and customer upsells.
Product: A flight booking platform for managing business travel and airline ticket booking. Through the platform, businesses can maximize savings on airfares by receiving notifications about price drops after tickets sell out.

Year of foundation: 2013

Funding: $2 million

Founders: Aviel Siman-Tov, Ami Goldenberg, Gili Lichtman, Uri Levine
Fairfly assists flight providers with the huge task of managing unused tickets, which is still a problem in 2022. Last October, Fairfly also added a hotel solution product to its airline ticket repurchase platform. existing. The company is backed by top VCs and investors, including Waze co-founder Uri Levine.
Product: TripActions, which has already achieved unicorn status, provides an end-to-end business card, expense management, and travel platform. TripActions leverages real-time data to help businesses keep employees safe on the go, reduce expenses, and boost productivity.

Year of foundation: 2015

Funding: Over a billion dollars.

Founders: Ariel Cohen, Ilan Twig
With more than 8,800 corporate clients, TripActions has raised $780 million during the pandemic, of which $250 million was used in May 2021 to acquire Reed & Mackay, a UK travel agency that runs meetings, events and conferences. VIP services. Notable corporate clients that have started using the TripActions platform include Heineken, Crate & Barrel, and Snowflake.
Product: BookAway is an online platform offering land travel booking services from local transportation providers around the world. The company helps travelers find the best services available and plan their trip. On the other hand, they also help partners expand their customer base.

Year of foundation: 2017

Funding: $81M

Founders: David Yitzhaki, Jonathan Bensaid, Noam Toister, Omer Chehmer
BookAway is active in over 90 countries and 13,000 cities. More than 1.5 million products from more than 7,000 operators are available in more than 100 markets. The company has made four acquisitions in the past year, with the group currently made up of Bookaway.com, 12Go, GetByBus and Plataforma 10 – digital consumer-facing brands that allow travelers to book buses, private transfers, ferries and trains in advance and online. The group has also invested in proprietary technology for bus and coach operators.
Product: A hotel re-booking solution that can take an existing hotel reservation and find the exact room at a lower price, allowing users to get a better deal even after their reservations have closed.

Year of foundation: 2016

Funding: $1.7M

Founders: Itai Marcipar, Regev Brody
Pruvo, a finalist in the World Tourism Organization (UNWTO) startup competition, offers savings of 12% on average per booking. The company closed its $1.1 million seed round at the start of Covid-19 in March 2020.
Product: An end-to-end customer communication platform for businesses to communicate with customers with the goal of improving customer satisfaction, loyalty, engagement and sales.

Year of foundation: 2013

Funding: N / A

Founders: Shimi Azaria, Gilad Cohen, Roy Fisher
Serving 2,000 organizations in 24 countries, including airlines like Singapore Airlines and hotels like the Intercontinental hotel chain; Howazit is another company that reached the semi-finals of the UNWTO startup competition.
Product: A social app for travelers providing real-time travel information and advice by connecting nearby travelers. Meeba users can see those around them, find travel partners and get information from them.

Year of foundation: 2016

Funding: Started with an $8.5,000 grant

Founders: Hatzav Aviv, Cnaan Aviv
The user-generated data platform was inspired and designed by travelers, for travelers, says Meeba co-founder Hatzav Aviv. The app is free and offers opportunities to explore local areas, meet other travellers, ask questions and get advice, buy and sell travel gear, and attend events local.
Product: Air Doctor connects patients with specialist physicians on the go. The company's platform helps ensure that international travelers have a plan in place to deal with health emergencies in a foreign country.

Year of foundation: 2016

Funding: $31M

Founders: Jenny Cohen Derfler, Efrat Sagi-Ofir, Egor Kurbachev, Yam Derfler
Backed by Israeli insurance company The Phoenix, Air Doctor and Phoenix Joint Service have helped it increase traveler health insurance revenue by more than 20% and reduce medical visit claim costs by 14% in the first half of 2019, according to The Phoenix.
Product: Roomer connects travelers who need to cancel a nonrefundable hotel room with people looking for last-minute, discounted accommodations.

Year of foundation: 2011

Funding: $17M

Founders: Adi Zellner, Ben Froumine, Gon Ben-David
Similar to StubHub.com for tickets, Roomer's goal is to make travel tradable and negotiable. In addition, its automated validation system verifies the authenticity of each reservation.
Product: WishTrip is a travel experience management platform that includes a mobile app for visitors and a suite of tools that help attract visitors and create new revenue opportunities.

Year of foundation: 2013

Funding: N / A

Founders: Yakov Slushtz, Bezalel Lenzizky
WishTrip has gamified attractions by providing site managers with a template to quickly and easily create their own interactive on-site gaming experience based on their site's geography and attractions. Additionally, at the height of Covid-19, the company understood the need for social distancing and created a safety solution that allows destinations to open without limiting their normal visitor capacity, while strictly adhering to standard regulations. of Covid-19.