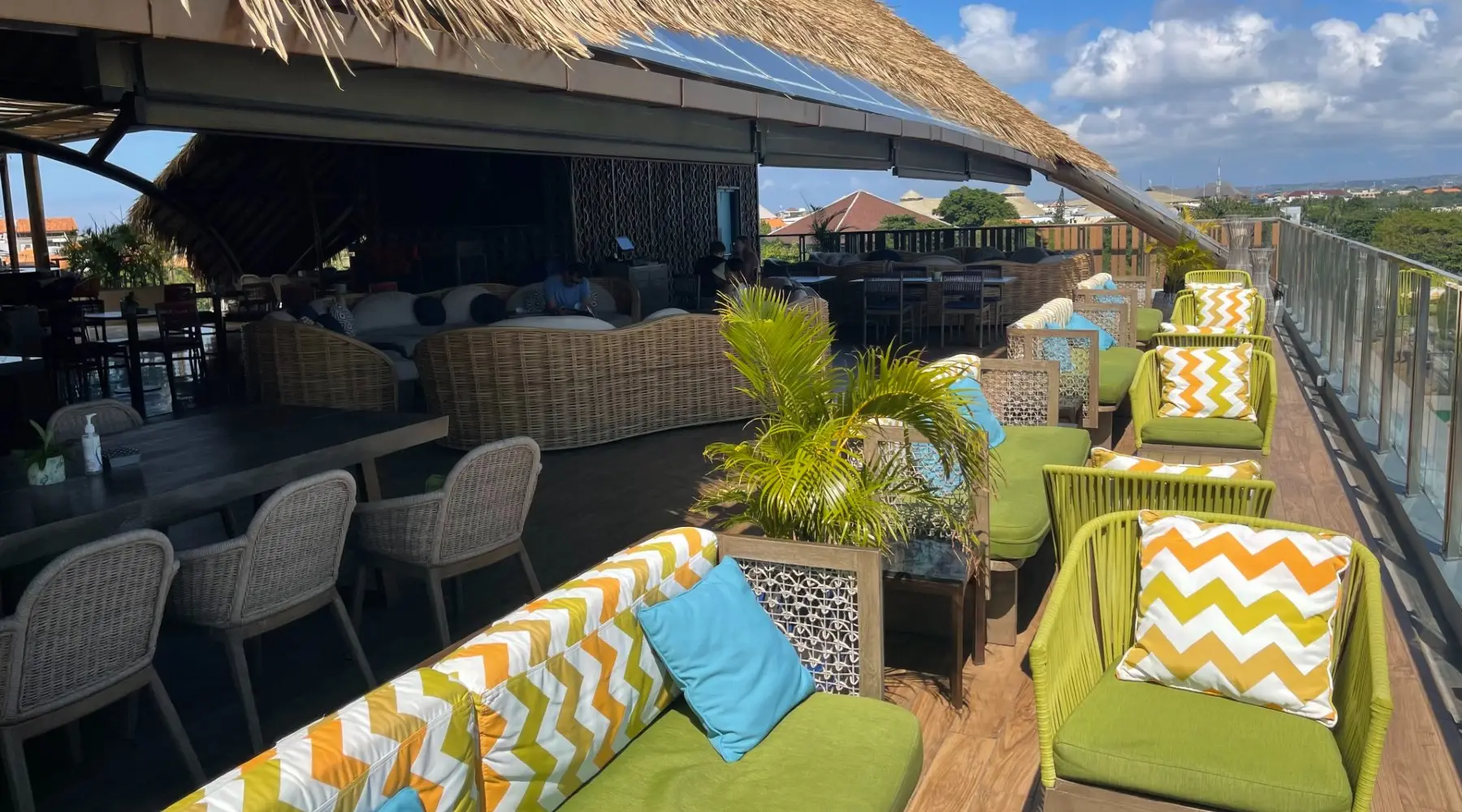 Absolute bliss by the sea overlooking Kuta, with all modern comforts for a glamorous stay.
MAMAKA by Ovolo details
Where: Jl. Pantai Kuta No.32, Legian, Kuta, Kabupaten Badung, Bali
When: July 25–27, 2022
Room type: Top Gun 2-bedroom suite of 91m2
Guests: 5 people (2 adults, 3 children) 1 bedroom
Cost: $550 per night (depending on exchange rate)
Hotel star rating: 4
Book: By Wotif
My opinion in brief
My star rating: ★★★★☆
Cost: Excellent value for money, considering all the inclusions.
Location: Seconds walk to the water overlooking Kuta beach.
Decor: Modern, colorful and warm.
Check-in/check-out: Friendly and professional staff.
Bedroom: Our suite had 2 separate bedrooms and a spacious living room, plus a dining table – more than enough room for our family of 5.
Food: We sampled the breakfast at the cafe downstairs, but the real highlight was the tapas at the rooftop bar. Fresh salads, flatbread and a tasty cheese platter were the perfect pairing for happy hour.
Facilities: Restaurants, room service, rooftop pool, massage, Wi-Fi and free self-service laundry.
Escaping the cooler winter months for warmer coasts in Bali is practically a rite of passage for Australians, but it took me a while to get in on the action: I'm 40 and it was my first trip to Indonesia.
With my husband and my 3 children aged 6, 9 and 11, we flew for a 12 day vacation in Bali.
We spent most of our time at a laid back resort in Jimbaran Bay, but for the first 2 nights we soaked up the sounds and sights of bustling Kuta.
The cost
Bali is known for its exceptional value and MAMAKA by Ovolo has delivered it in spades. We had a large room, but the hotel offers several different options, starting at $130 a night.
All rooms are equipped with free Wi-Fi and your first drink is also offered by the house!
The location
Right in the middle of the action – and only a short drive from the airport.
MAMAKA Ovolo is one of the many resorts that line Kuta Beach. This hotel is within walking distance of many local attractions and amenities, including the cosmopolitan Beachwalk Shopping Center. There are many restaurants and bars nearby, a mini market next door and many local shops.
Our room also had the bonus of an absolute view of the beach – a lovely way to start the day.
The decor
Bright and vibrant in keeping with the beach theme, our room felt like sunshine in a suite. The color palette was full of warm, natural aqua, yellows and tones and the furniture was super comfortable – perfect for crashing into after a long day of shopping and sightseeing.
The check-in/check-out process
After flight delays and a lengthy immigration process, we finally reached the resort at 3am. We were greeted by warm and friendly staff who had us checked in and taken to our room within minutes.
Bedroom
Traveling as a family of 5, we usually book the largest room available or 2 rooms. At MAMAKA, we were delighted with the Top Gun 2 bedroom suite. There were 2 separate bedrooms, 2 bathrooms (1 with a luxury tub), a large wardrobe, dining room, living room and kitchen – all for around $550 per night.
We had a small issue where a set of blackout blinds would not close. They are quite significant (without them, due to how spectacular the sun is bouncing off the ocean and into your room at dawn), but they sent staff to fix the problem immediately.
The food
We enjoyed breakfast in the cafe overlooking the bustling busy street one morning, but the real star of the show was the rooftop bar and restaurant. You can order food by the pool or slip into a booth overlooking the ocean – a truly sensational way to spend happy hour!
We ordered a delicious cheese platter ($14) and garlic and herb flatbread ($3.50) to start, then slipped into fresh salads, margarita pizza, and pasta.
The cocktail list was also extensive and hit the mark.
The installations
Along with everything you'd expect from a flashy hotel — including an on-site restaurant, room service, on-site massage, and a rooftop pool with sensational Kuta views — there were the added extras that really shake things up.
At MAMAKA Ovolo, this included on-site surf lessons, free moped rentals, and an app that makes interacting with the hotel super easy.
The added bonus was the free self-service laundry: when you're traveling with kids, that's a complete game-changer!
The verdict
When you're looking for an escape from the hustle and bustle of Kuta Beach, but still want a hotel with ambiance and vibrancy, MAMAKA by Ovolo is the place for you. You can enjoy the on-site pool, restaurants and bars and soak up the Bali experience, then retreat to your room when you want some quiet time – or better yet, retreat to the massage parlour!
All in all, a great stay for families, young travelers, and anyone looking for a balance of play and relaxation in Kuta.
Book: Go to Wotif to book your stay at MAMAKA by Ovolo
Sarah Megginson stayed as a guest of MAMAKA by Ovolo.
---