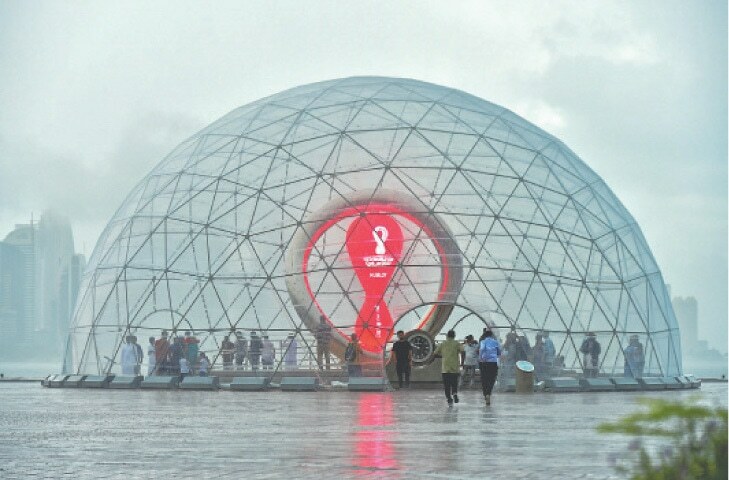 Qatar is looking to Nepal to recruit service workers during the 2022 FIFA World Cup as it prepares to host the world's biggest sporting event.
The oil-rich Gulf country has massively upgraded and built new infrastructure for football championships scheduled for November, and needs hordes of workers to keep it running.
Nepal has allowed Qatar to hire Nepali workers for a temporary period covering the World Cup, officials said.
"We have been informed by the Nepalese Embassy in Doha of the interest expressed by Qatari companies to hire Nepali workers for service sector jobs during the World Cup," said Thaneshwar Bhusal, deputy secretary at the Ministry of Labour, Employment and Social Security. the post office.
"A ministerial-level decision last Friday gave the green light to move the process forward," Bhusal said.
The World Cup is due to take place in Qatar from November 21 to December 18. This is the first World Cup ever held in the Arab world.
In a bid to cope with the expected influx of players, fans and media, Qatar's hospitality industry has added 26,000 hotel rooms, according to a report.
"We demanded a free visa and free ticket system for Nepalese workers. The employer has to bear all the costs," Bhusal said.
Nepali manpower has made a significant contribution during the construction of infrastructure in Qatar for its biggest football event. "Therefore, Nepalis should be given priority in service sector jobs."
The number of workers to be hired has not been decided.
The decision to hire Nepali workers in the service sector comes as Qatar is increasingly criticized for firing its workers early and putting them on unpaid leave for five months so they are not visible during the tournament.
According to reports, the Gulf nation adopted a policy last year to send back thousands of migrant workers who built the stadiums and other infrastructure for the World Cup.
Labor experts say such a measure will not only increase the financial burden on migrant workers, but also deprive them of the recognition they deserve for their efforts.
"Although a country is free to make policies according to its needs, the workers who have given their blood and sweat to develop massive properties deserve honor and recognition," said Rameshwar Nepal, a migration expert from workforce.
"Those who have the legal right to stay there and watch the football championship should not be denied this opportunity," Nepal added.
Experts say the most important aspect to focus on is the rights of migrants.
Migrant outflows from Nepal had briefly halted due to Covid-19, but the outflow has now returned to pre-pandemic levels. More than 1,700 young Nepalese leave the country daily to work abroad, according to official figures.
In the last fiscal year ending July 16, more than 628,503 people received work permits, the second highest number on record, according to government statistics. The figure excludes young people leaving the country for higher education and neighboring India.
The money sent home by migrant workers has over the years become the backbone of Nepal's economy. Remittances amounted to 986.2 billion rupees in the last fiscal year ending mid-July, according to the Ministry of Foreign Employment.
The Gulf countries and Malaysia are the main work destinations for Nepalese. Hundreds of Nepalese have died, been injured or been victims of labor exploitation over the years in these countries.
Families of 7,467 migrant workers who died and 1,513 others injured or ill received compensation between 2008-09 and 2018-19 from the Foreign Employment Board, the agency responsible for the welfare of Nepalese migrant workers, according to a report. of the government.
"Our government's inability to strongly raise security issues in bilateral meetings is one of the reasons affecting the safety and security of Nepalese migrant workers," said Jeevan Baniya, deputy director of the Center for the Study of Labor and Mobility, Social Science Baha, a non-profit organization involved in social science research in Nepal.
Even though government officials say worker safety has always been their top priority, labor experts say Nepal's concerns are barely raised.
"We have constantly raised the issue of the safety of Nepalese workers abroad. Talks have been held with stakeholders in Qatar as well as other work destinations," Bhusal said.
Nepal has been unable to intervene effectively when issues of labor rights violations have arisen.
"Our labor diplomacy has been weak," said the labor expert from Nepal. "Although the labor agreements that Nepal signed recently are a little better, they still lack detail regarding workers' rights and protection schemes."
A recently released report based on a two-year investigation by Equidem Research and Global Labor Justice-International Labor Rights Forum found widespread labor and human rights abuses at 13 of FIFA's 17 partner hotel groups in Qatar.
"In interviewing 80 workers from 10 countries, including Nepal, working in the hotels that will host players and visitors during the World Cup, it was revealed that migrant workers face discrimination based on nationality and race" , said Nepal, director of South Asia. to Equidem Research, a UK-based human rights research organisation.
"They were underpaid and faced pay cuts, especially during the Covid-19 pandemic. They were charged with illegal recruitment fees and forced to work overtime without pay," he said.
"My salary does not reflect my skill level, it reflects my nationality," said the report quoting a Nepali employee at the Westin hotel in Doha. "While Filipinos are paid 1,600 Qatari riyals for the same work, we are paid 1,000."
Some female workers said they were harassed by their colleagues, supervisor as well as guests, Nepal added.
For years, the exploitation of Nepalese workers abroad has not ceased.
"Our embassies and diplomatic missions in labor destinations have been limited to performing administrative tasks," said Ganesh Gurung, a senior labor migration expert.
"We have a lot of weaknesses. We couldn't send workers by making them skilled. The government is responsible for it. Moreover, we carry out weak social negotiations.
In collaboration with the International Labor Organization since 2018, Qatar has established a non-discriminatory minimum wage, developed an electronic payment system to promote the full and timely payment of wages, and put in place procedures to identify and remedy violations of workers' rights.
Equidem Research says the new laws have blunted some of the harsher features of the kafala system, allowing migrant workers more freedom to change jobs without the employer's permission.
Qatar, Bahrain and Saudi Arabia have taken similar steps to limit employer control over workers. Despite recent reforms, significant implementation and enforcement challenges remain in Qatar and elsewhere, the report says.
Nepalese migrant workers are mostly unskilled as they belong to a lower economic stratum. They are forced to leave the country without basic information about their work destinations and work environment.
The government has not been able to implement the improved program of pre-departure orientation training, according to experts. The program provides useful information on rules and regulations, traffic rules, labor laws and local culture and traditions.
A new program has been introduced to provide country-specific information for outgoing workers through audio-visual support, but it has still not been implemented. Organizations responsible for providing such training say they cannot implement the new program by following the existing work procedure.
"The new curriculum has already become obsolete with the ever-changing dynamics of the labor sector," Baniya said.
"A revised curriculum was put into effect on February 13 last year," said Maiya Kadel, Undersecretary and Director of the Training and Research Section of the Overseas Employment Board.
"However, institutions registered to provide such training have not implemented it. They demanded a revision of the working procedure as well as the program.
Raja Ram Gautam, chairman of the Federation of Nepal Associations for Overseas Employment Orientation, said they have been providing the same orientation training for the past decade.
"The main problem hindering its implementation is the existing working procedure. We have been urging the authorities to change it for four years, but they are not listening," Gautam said.
"Although the council did not provide us with audio-visual training materials, it is unclear whether an institution should provide country-specific training for all countries or for just one country," Gautam added.
The government has formed a committee to resolve issues regarding the pre-departure orientation training program.
A large number of Nepalese workers have died in traffic accidents.
"It could have been reduced if the pre-departure orientation training program had been properly implemented," Nepal said.