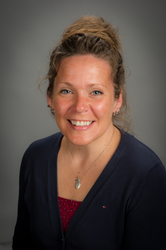 "We are going to be a Phoenix rising from the ashes."

CORNING, NY (PRWEB)
June 29, 2022
Radisson Corning has named a dynamic new leader who will usher in the historic hotel's next big chapter as it embarks on a multimillion-dollar, property-wide renovation before converting to the Hilton Pavilion. In her role as General Manager, Marisa Thomas, a hospitality industry veteran who previously served as General Manager of Canopy by Hilton in Ithaca, is responsible for overseeing operations and improving the guest experience. She hopes to restore the hotel's appeal, a more than 50-year-old community mainstay, by the time the conversion is complete.
"We're going to be a Phoenix rising from the ashes," says Marisa of the highly anticipated Radisson Corning renovation starting in late summer 2022 and transitioning to the Hilton DoubleTree by spring 2023. that the property has faded somewhat over the years, it's risen and become Corning's "hotel" again!"
Managed by Core Hotels & Resorts, Radisson Corning has been the Finger Lakes region's only full-service hotel for decades and a preeminent destination for conferences, banquets and events with over 8,000 square feet of function space flexible. The 177-room property is well placed in the heart of historic Gaffer, where the famous Market Street begins just steps from the famous Corning Glass Museum. On-site food and drink outlets led by Executive Chef Sean Glacken include Grill 1-2-5, Steuben Bar and the outdoor Market Street Social venue – which Marisa intends to improve over time. as she settles into her new position.
"I want us to be recognized for our locally sourced, farm-to-table food and beverage program and our excellent customer service," says Marisa. "As the hotel evolves over the next few months, look for an exciting new culinary direction to follow."
Along with having the opportunity to transform the property into Hilton, a brand she knows well and is passionate about, Marisa was drawn to Radisson Corning because of her personal story. Living nearby for a dozen years, Marisa and her husband have often spent weekends at the hotel, taking advantage of its central location and personalized service. Now it's come full circle, with Marisa setting the tone for the team members. She is enthusiastic about her 'eclectic' mix of staff, some newbies and some who have been there for over 40 years. According to the General Manager, regardless of their tenure, everyone is excited to see the hotel become something new and fresh.
"We are very confident that under Marisa's determined leadership, this hotel is ready to take a big step forward and begin an exciting new chapter in its half-century-old history," adds Michael Payne of Core Hotels & Resorts.
For more information, visit https://www.radisson.com/corningny or call (607) 962-5000. Radisson Hotel Corning: 125 Denison Pkwy E, Corning, NY 14830.

Share the article on social networks or by e-mail: