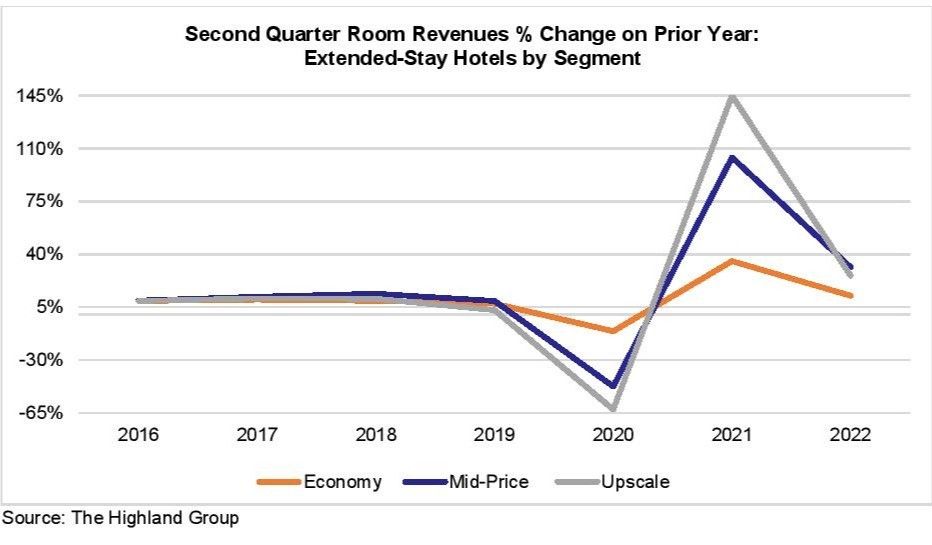 AT THE END OF THE FIRST HALF OF 2022, U.S. hotels were broadly catching up with extended-stay hotels in terms of recovery, according to a report by the Highland Group. RevPAR recovery, for example, was nearly the same for hotels as a whole and for extended stays.
Additionally, the report revealed that new construction fell to an 8-year low in the first two quarters of the year, according to the report.
For the first time in 18 months, the hotel industry's overall second-quarter RevPAR recovery index exceeded 100%, matching the extended-stay hotel index of 109%. Budget and mid-range extended-stay hotels are still ahead of the global recovery, as well as high-end extended-stay hotels. The gap between the segments should narrow in the short term.
All extended-stay segments returned to second-quarter 2019 levels, according to the report. Room revenue is 25% higher than the same period in 2019, and the mid-priced extended stay segment saw record occupancy. The occupancy premium of extended-stay hotels over all hotels increased by more than 11 percentage points.
"Upscale extended-stay hospitality, which has hampered the pace of recovery across the entire extended-stay segment, recorded its first full quarter with RevPAR above its corresponding face value in 2019. The full recovery of upscale hotels for extended stays is expected to occur over the next several years," the report states. "The upward recovery of extended-stay hotels is reflected in rooms under construction. The budget segment, which is attracting more and more investors, has seen no change in rooms under construction over the past year. The mid-price segment, which is one of the best performers in the hospitality industry, is also seeing growing investor interest.
The number of rooms under construction at upscale extended-stay hotels has more than halved. The exit of hotels from the brands because the properties no longer met the brand's standards contributed to the net change in the number of new rooms opened being less than that of rooms under construction compared to existing supply, according to the report. Some of the abandoned hotels will remain as extended-stay hotels, but others will be converted into apartments or demolished.
"The foreseeable outlook for extended stay hotels is very good as the last time extended stay hotel supply growth fell below 3%, it stayed there for four years and RevPAR increased. by 47% over the same period," said Mark Skinner, a partner at The Highlands Group.
The mid-year report comes shortly after the release of the Highland Group's June report which found that all U.S. extended-stay hotel recovery indices were up from 2019. However, demand for budget extended stay hotels fell 1.6% for the third consecutive month. in June compared to the same period last year due to a strong increase in ADR over several months.