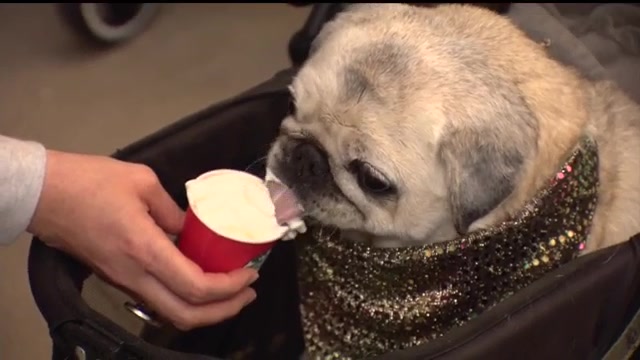 Forget happy hour. Try an hour of yappy! At the InterContinental Miami, you and your pooch can have a great time on their Paws Patio. Deco has a taste of all the furry fun.
The InterContinental Miami will make you say…
Baha Men (singing): "Who let the dogs out! WHO, WHO, WHO, WHO?
Every Wednesday, the hotel offers Paws Patio on the Bayside Terrace, a fun event for dogs and humans.
Gina Jenna, InterContinental Miami: "Paws Patio is just one of the interactions we have here at InterContinental Miami, and it's also something for the local community that lives downtown and can enjoy a safe space for all their dogs to come and play. "
Your pup will feel like a real VIP…but he hasn't forgotten us, the two-legged friends.
Gina Jenna: "We have 'paw-some' cocktails, like a 'bark-a-rita', or any kind of happy hour drink specials, and then most importantly, our VIP puppies get a free 'puppacino'."
Isn't that life? I could use a "bark-a-rita" right now.
The Paws Patio is a great place to hang out with your four-legged friends and meet humans too.
Gina Jenna: "Owners can expect a safe, outdoor place for all their dogs to come and play, mingle with other dog moms, and have a good time."
Let your pooch go crazy with the "puppacinos". They don't drive.
The best part of the event?
Gina Jenna: "This event is completely free for the local community as well as our hotel guests."
To free? Count my Suzie Q. and me!
Maribel Chaluja, guest: "I love all the events I can take my dog ​​to, but this one is great because they think of everything. They have toys, they have free puppacinos. He can talk to other dogs, and it's great fun, and we meet a lot of nice people. The weather is nice outside and the drinks are delicious. What more can you ask for?"
FOR MORE INFORMATION:
Patio of the paws
InterContinental Miami
100 Place Chopin
Miami, FL 33131
icmiamihotel.com/play
Copyright 2021 Sunbeam Television Corp. All rights reserved. This material may not be published, broadcast, rewritten or redistributed.