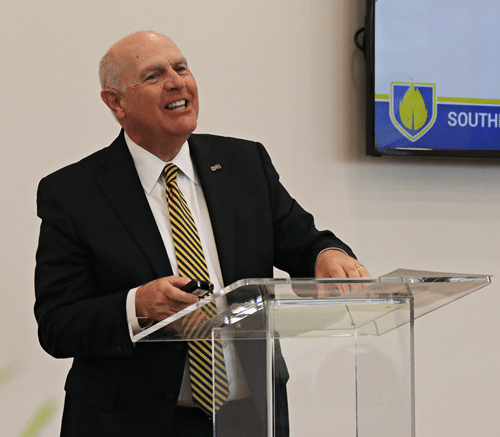 The University of Southern Arkansas System Board of Trustees has approved a lease agreement with Dawson Hotel Management LLC to construct a Best Western Plus hotel on U.S. Highway 82 and the old McNeil Expressway , with groundbreaking to take place this summer. This measure was taken during the ordinary meeting of the Board of Directors on Wednesday March 30, 2022.
Dr. Trey Berry, president of SAU, presented the trustees with the lease agreement, which was reached after the board authorized Berry to negotiate a land use that would benefit SAU and the community.
Dawson will lease the property from SAU for 50 years, with annual scholarship payments. The lease includes 14 acres of land for the construction of a 60 to 80 room Best Western Plus. Berry said the hotel will contain meeting space for UAS and community use, and options for developing future amenities are available.
Dawson will be responsible for building and maintaining the property and plans to use local contractors whenever possible. "It will bring more benefits and resources to our community," Berry said.
The hotel will feature SAU's blue and gold theme and contain other highlights emphasizing the university. "This is a win-win situation for SAU and the communities of Magnolia and Columbia County," enthused Berry. "We are confident in what this will mean for us in the future."
He said that once construction begins, it usually takes five to six months to complete the project. "They take it down to an art form," he said of the building process.
The trustees voted and approved the lease agreement.
In other matters, the trustees presented outgoing board member Therral Story with a resolution honoring his years of service. The story served from 2016 to 2022 and saw a number of significant advancements at SAU and SAU Tech. These advances include 26 new installations or renovations on the Magnolia campus; the first successful and comprehensive fundraising campaign in SAU history, raising $29.7 million and reaching all areas of campus; the creation of 42 new academic programs at SAU, including healthcare administration, engineering, and cybersecurity; and the construction of the new residence for the Fire Academy of SAU Tech. Berry called Story a blessing and thanked him for his service and dedication.
"This college means a lot to me," Story said of accepting the resolution. "I am very proud of this great organization.
In his report, Berry highlighted SAU's overall success in the fight against COVID-19. "The last two years have been very difficult," he said, noting the security policies adopted by the risk management task force. "The real heroes are the nurses in our Department of Health Services. They worked day and night without complaining to keep us all safe.
He pointed to encouraging numbers, noting that SAU started the spring semester with 169 positive COVID cases. The University has only one positive student case and no positive cases among faculty and staff. "It's a good sign," Berry said.
SAU looks forward to positive enrollment numbers in the fall. Berry said: "As of now, undergraduate applications and acceptances are up from last year, as are those for graduate studies. Campus visits are up and overall our housing is ready for fall," he said. "These are wonderful things to see."
He pointed to the upcoming SOAR Sustainability Conference on April 20. The conference will offer a full day of sessions focused on actions to build a sustainable future. Dr. Robin Sronce, Dean of the Rankin College of Business, and his team organized the conference, which attracted several sponsors. "This is a new venture, which we hope will become permanent," Berry said.
Berry briefed administrators at the College of Education and Human Performance, which has 53 student teachers in 28 school districts. Berry pointed to Casey Loftin, an elementary education major with a specialization in STEM. Loftin, a Jacksonville native, served as a third-grade student teacher at Central Elementary in Magnolia. After graduating from SAU, Loftin hopes to teach third-grade social studies.
Berry also noted Simone Leal, a trainee teacher from Portugal. "It's amazing to see so many of our students there," he said of the impact SAU student teachers have had on the region.
The SAU Theater Department is partnering with Magnolia High School for an upcoming production of Guys and Dolls. "We are thrilled with this major musical and our relationship with MHS," said Berry.
As for athletics, Berry praised the new leadership in place for many Mulerider programs and noted that spring sports are "doing very well." Some of them are #1 in GAC.
Berry talked about the "human" side of SAU athletics. Corporate finance junior Marko Nikoliuk and freshman Inna Serukhova are from Ukraine. They reconcile sport and studies with concern for their families back home.
"They're holding up remarkably well," Berry said of the two student-athletes, "and we've offered them all the help we could. SAU is their home now.
He noted that one faculty member also had family ties to Ukraine. "They're all part of our own family," Berry said.
In other cases, Dr. David Lanoue presented several academic changes for administrators to approve. These included: the creation of a MAT SPED K-12 runway; a new education competency certificate; a name change from BFA Art and Design: Communication Design to BFA Art and Design: Graphic Design; added a new certificate program in Teaching English to Speakers of Other Languages; add a new Computing-Data Science option and add a new BS Mathematics Data Science option.
After approving the staff recommendations in executive session, the Board adjourned.