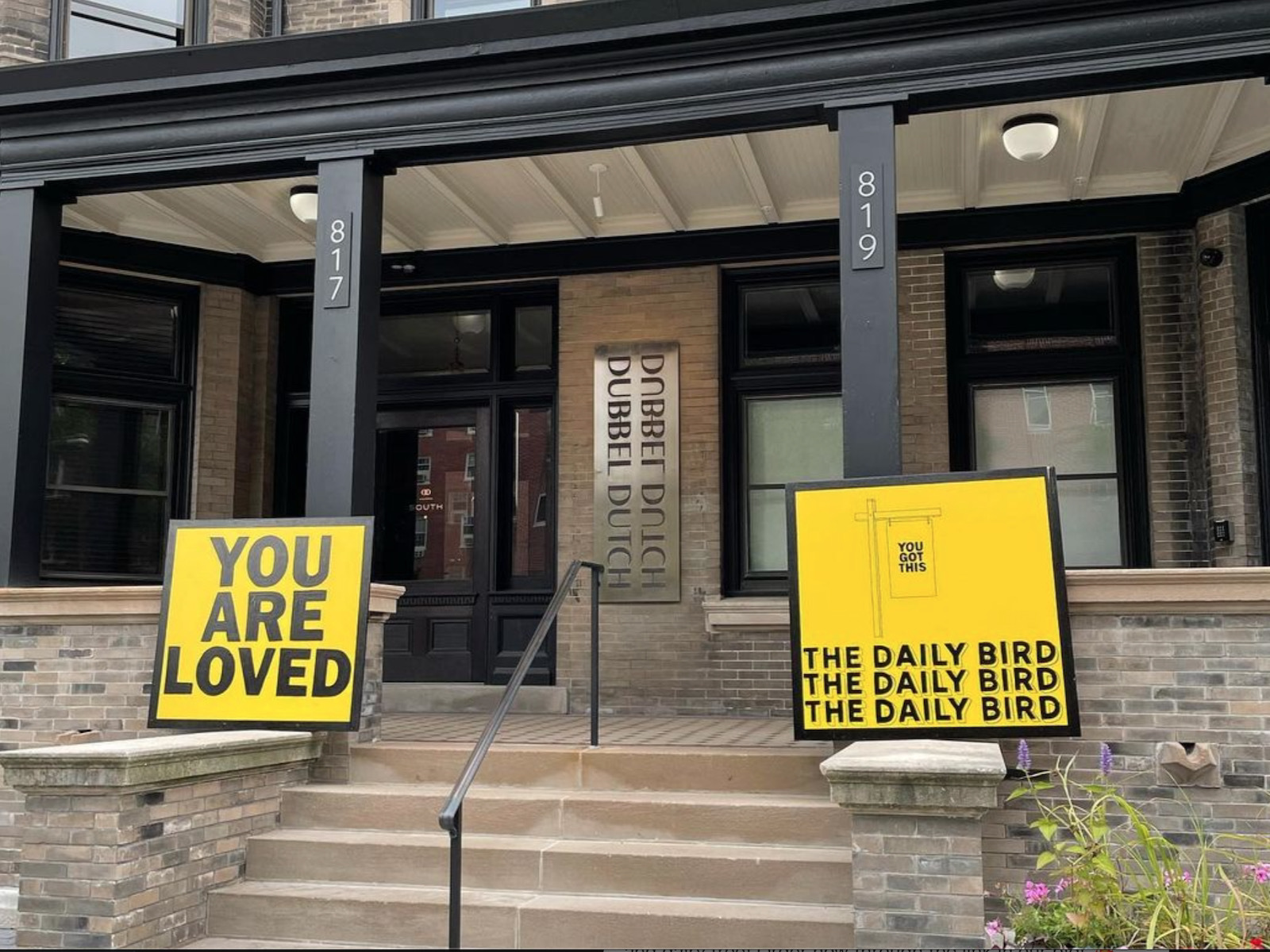 The Daily Bird, which opened last April as a pop-up store at Centro Cafe in Riverwest, has now added a second location to its list, thanks to a partnership with the Dubbel Dutch Hotel, 817 N ​​Marshall St.
In fact, starting this week, guests can experience both the positivity of the team behind The Daily Bird, as well as a great list of coffee and espresso drinks made with Anodyne Coffee and the Local bakery from Honey Bear Baked Goods.
The Daily Bird will serve both the general public and Dubbel's Dutch customers seven days a week, offering seating inside the Dubbel Dutch Tavern, as well as on the hotel's front and side patios.
The Daily Bird was born through a partnership with Pat Moore and Peg Karpfinger, owners of the Centro Cafe, who saw the business as another opportunity to contribute to the Center Street corridor and help foster entrepreneurship in the district.
"By providing space and support for Dan Zwart, founder of The Daily Bird, his natural talents for creating a positive attitude, community spirit and great coffee flourished every morning on Center Street," notes Karpfinger. "The Daily Bird and the vibe created by their team brought the streets to life in a really great way, attracting people from Riverwest and beyond."
Since April, Zwart has grown his team to include two additional co-owners: Dylan Compton and Cole Compton, who each bring a unique set of skills to the table.
Zwart is the man behind the distinctly positive message that has become the brand for The Daily Bird. Meanwhile, Dylan Compton brings a wealth of coffee knowledge with experience as a barista at Anodyne Coffee Roasters. Meanwhile, Compton brings a sense of enthusiasm and motivation to grow both the business and its impact on the city.
The store also continued its partnership with Honey Bear Baked Goods, a small business owned by Elena Laurent, which caused a stir with its delicious baked goods, many of which are vegan.
"It has been great growing up with The Daily Bird," notes Laurent. "Their cafe has created a space for our community to connect through coffee, food and art. They truly believe in the power of small businesses that support each other, and Honey Bear is grateful to help build a safe and supportive space in our community.
Like The Daily Bird, Dubbel Dutch was an entrepreneurial company founded by Juli Kaufmann alongside his partners Andy Braatz and Patrick R. Jones. Together, they are a team focused on delivering authentic experiences that celebrate the best of Milwaukee.
Kaufmann says The Daily Bird is a perfect match for these kinds of experiences.
"The partnership with Daily Bird was so natural," noted Juli Kaufmann. "We share the goal of mutually beneficial relationships for our respective businesses. The owners of Daily Bird are extremely positive, easy to work with and committed to excellence. They brought a professional approach which made our working together quick and easy … This is exactly the kind of Milwaukee experience we want to present to Dubbel Dutch.
The Daily Bird is open every day from 7 a.m. to 2 p.m.
Along with the coffee launch, the Dubbel Dutch will also reopen the Dubbel Dutch Tavern on July 23, with service on Friday and Saturday evenings from 4 p.m. to 10:30 p.m.
The Dubbel Dutch Hotel has 17 uniquely decorated boutique rooms, as well as a catering kitchen available for small events on site. Large groups have the option of purchasing the entire hotel space for events such as unique weddings, family reunions or corporate gatherings. [Read more]